Consciously Crafted Chocolates
We make heavenly chocolate,
that makes you feel good!
In our kitchen in Devon, we make you delectable chocolates using simple, organic, natural ingredients. 
We craft the yummiest vegan chocolate you'll ever try.
If you like real simple organic ingredients, make Soulsome your next indulgent treat!
Guilt-Free Organic Ingredients
If you're a chocolate lover but struggle to find chocolate with only the good stuff that actually tastes good…
You'll love our bars.
We use organic ingredients, that enrich the planet and ourselves.
Feel good in your guilt-free indulgence.
Organic, vegan, refined sugar-free.
We source the highest quality organic nuts & seeds.
Gently
roasted and stone ground to make mouth-watering fillings.
Everything we produce is as close to the raw, whole ingredient as possible. Giving you the best nutritional magic from our chocolate.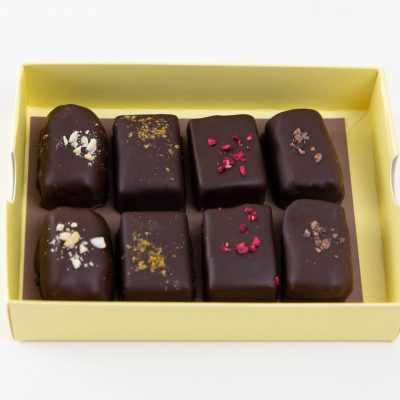 Your beautifully boxed chocolates come in 100% recyclable packaging.
Wrapped with 100% recyclable/biodegradable tissue paper coloured with plant-based dyes.
I have to message you to say a huge thank you. I ordered some chocolate from you and they arrived yesterday. They are soooooo delicious i'm obsessed now! I actually work for hotel chocolat and its not often I find something I like so its a big deal! 😂
Jasmine Hemsley
@jasminehemsley
They were delicious !!! Peanut was my fave 🙏
This chocolate was absolutely delicious! I loved the different flavours and so great that it's vegan too! Very happy 🙂
The treat and moment of peace I wait for everyday. I very reluctantly gave my partner one yesterday, knowing it would mean they would last half as long.
Ive just tried the raspberry and sour cherry and OMG..im in heaven! Thank you again xxx✨
" I was drawn to them because of their awesome ingredients, let alone their ethical principles, so all the guilt of eating them went away. The flavours are amazing and since our first order we have come back for more. We need more artisans like Soulsome popping up to keep pushing the boundaries of what is possible and in the process using high vibe ingredient to raise our spirits.
Soulsome chocolate was founded by Emma, yoga teacher and conscious foodie.  She's had years of recipe experimentation, and countless healthy sweet treats to stumble upon these treasured recipes! She pours her heart and soul into Soulsome chocoate. You'll feel the difference.
Fancy Stocking Soulsome Chocolate?